The Maze Condos are about to become Mississauga's latest architectural marvel. Located right beside the central intersection of Hurontario St and Dundas St W, these condominiums will bring a much needed refreshment to the area. The Maze Condos are being immersed in an outlandish, but complementary design. Something that evokes creativity, flash and drama but also heralds to the structured, right angle geometry featured in the past urban industrial use for the neighbourhood.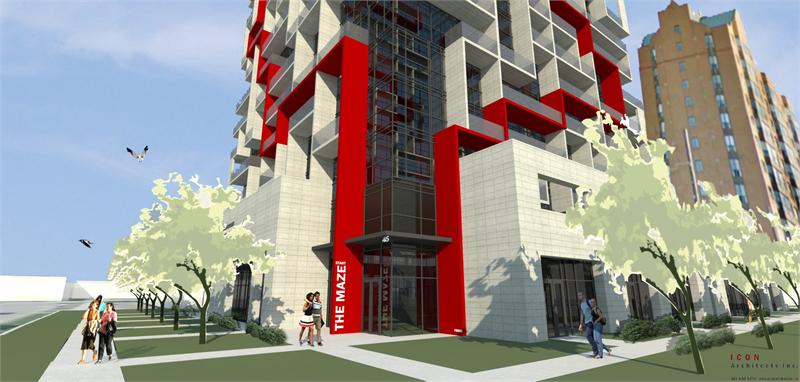 The Maze Condos are situated in an interesting location. The "Highway 10 and Dundas" intersection was once upon a time contending to become the centre of downtown Mississauga. Many people thought this would be where our version of Times Square or Yonge & Dundas Square would end up. Sadly, for those who are familiar with the current area, it's obvious this didn't happen. Downtown Mississauga ended up being established further north around Square One. Recently however, new businesses and a booming cultural population have started breathing new life into this locale. The Maze Condos will surely become the landmark of the community. This will then provide a significant anchor to begin high density, high rise development along the Hurontario Street corridor all the way up to Square One. It was only a matter of time until a project like this appeared and simply judging from the preliminary renders, the Maze Condos look spectacular.
The Maze Condos will be walking distance to dozens of shops, restaurants and entertainment venues. These range from family owned, to specific ethnicity offerings as well as general commercial entities like the much loved, quick stop Burrito Boyz. The population boost will also help drive additional customer traffic and I imagine should start a trend of condo developments within the area. Additionally, the sheer publicity over the Maze Condos design will bring added attention to this prime real estate neighbourhood.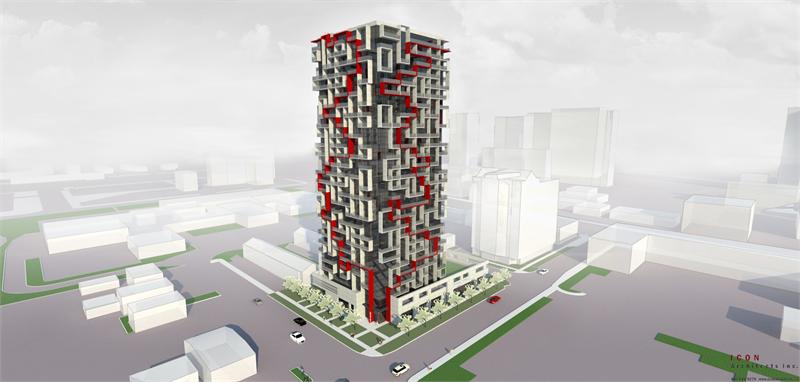 The Maze Condos will offer 28 stories of condominium units ranging between an estimated 600-850 sqft. The 250 suites will offer 9ft+ ceilings and all the finishes/décor one would expect from a modern, contemporary styled condominium such as this. Current planning suggests a 2017 completion date with prices starting at mid $200,000. As for lifestyles, it seems the Maze Condos are tailored toward a younger, newer generation. This is due to many of the local immigrant families now having second generation individuals entering a professional work force. Given time and additional condo projects, this may spark a Cooksville rennaisance similar to what happened in King West and Liberty Village.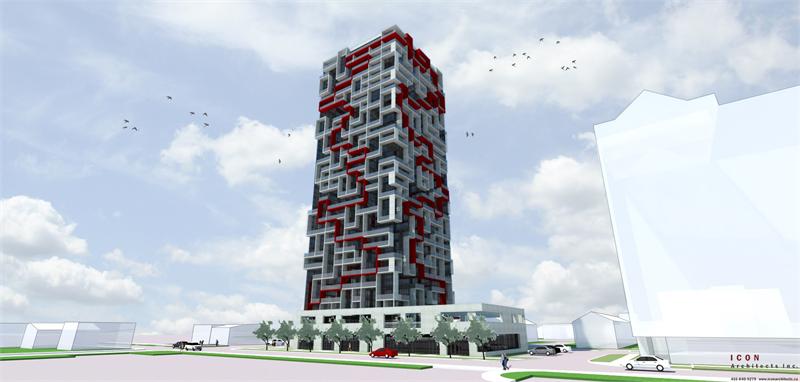 Mississauga is just teeming with exciting development activity. While speaking to a Google rep in California via phone this week, we predictably discussed Square One condos. To my surprise, even down there the Absolute Condos are quite well known. This helps further prove that Mississauga is incrementally becoming internationally recognized. Unique and definitive architecture is the key and the Maze Condos do not disappoint. Once finished, they'll add another Marilyn Monroe Condo calibre residence to the Mississauga skyline.
As an addition to the Maze Condos information, I wanted to highlight one of our famous local developers. Near the beginning of the article I mentioned how most people believed Cooksville would become the downtown of Mississauga but were disproved. One individual who correctly predicted it would occur near Square One was Iggy Kaneff. He is a Belgian immigrant who founded the Kaneff Group of Companies with practically no money. Scored very big on real estate. You can read his full success story here. For more information about the Maze Condos or any real estate services, contact us.