What is the history of Downtown Mississauga?
Many people have seen this now iconic picture of what downtown Mississauga looked like in 1973. That is the current Square One Shopping Centre in the image, of course now it has plenty of physical additions and a surrounding devised of modern Square One condos. How did all of this begin? Who decided to build a giant mall within some random fields and how did the rapid encircling development follow suit? Let's begin by looking further back than the Square One Shopping Centre. Many people are aware of the downtown Mississauga street named "Robert Speck Parkway". The name is actually inherited from Robert Speck, the only elected mayor of the Town of Mississauga in 1968.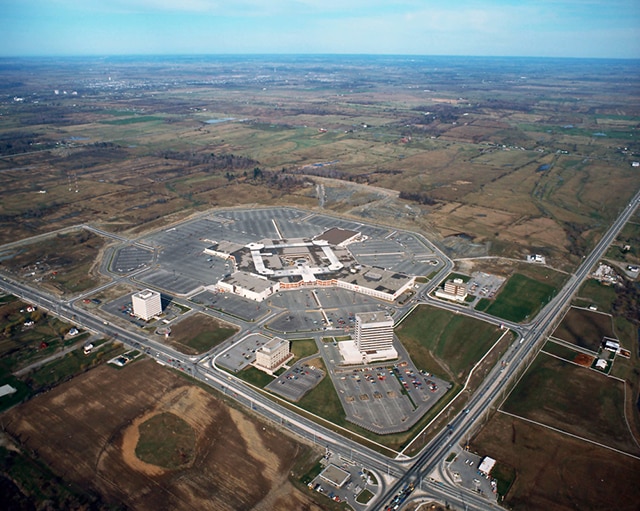 In 1969 Bruce McLaughlin, one of the biggest visionaries for Mississauga began building the Square One Shopping Centre. Bruce had large land holdings around the intersection of Burnhamthorpe Rd and Hurontario St which lead to this being the chosen location for the shopping centre. The mall was completed in 1973 and Mississauga officially became incorporated as a city in 1974. Mayor Hazel McCallion took leadership as mayor in 1978. Interestingly many people believed that Hurontario St and Dundas St would become the downtown Mississauga core. This would have been likely, but a fire had destroyed the city hall in that location and Bruce McLaughlin, being the smart businessman that he was encouraged the city to relocate the construction of the new City Hall to Square One, he even provided the land for free. This officially cemented Square One as the new downtown Mississauga location. Complimenting the ever modern approach of the city, the service and utility construction was placed underground, beneath the Square One region which was not common practice at the time. Bruce had explained that this was so future high-rises, and high-density buildings could populate the area. It's this combination of ingenious forward thinking that allowed downtown Mississauga to blossom into what it is today at such an extraordinary pace.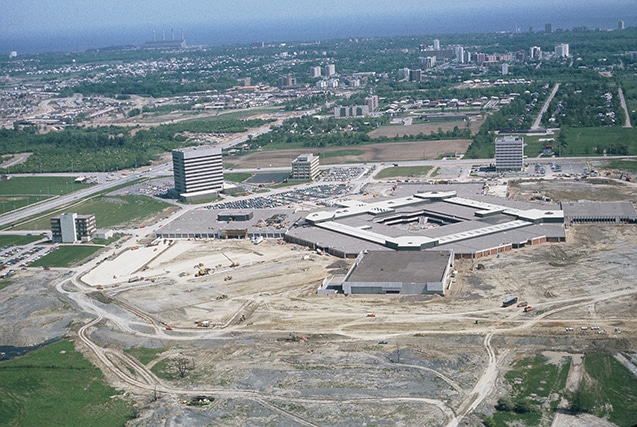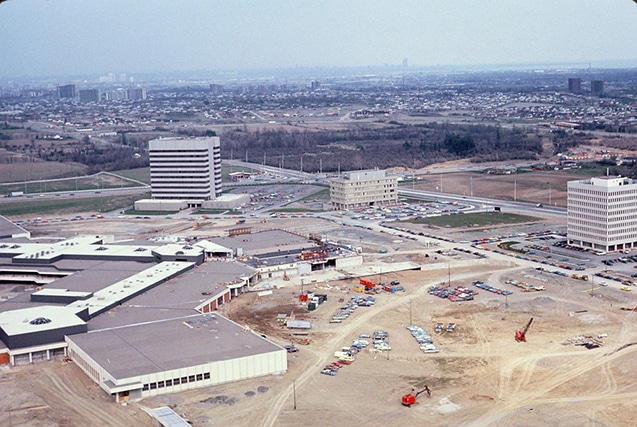 Over the years as the downtown Mississauga area gained popularity and as condo living entered the real estate space, a surge in Square One condos began. Businesses also started migrating to this area. Harold Shipp, another prominent developer who built many neighbourhoods in the City of Mississauga was the individual behind the Mississauga Executive Center which lead to other office structures. We now have a fairly healthy residential/commercial mix within the Square One region. The formation of the iconic Absolute Condos really placed Mississauga on the world map and we now have spectacular projects to look forward to. With high-density growth in the area, you have developments such as Parkside Village, the amazing Downtown 21 Mississauga Plan and varying future Square One condos.
If you are interested in buying, selling or leasing downtown Mississauga condos or real estate, please contact SquareOneLIFE for professional services.